What can public sector governance learn from three stone cutters?
Written by
Jon Simonsson
, Chair of the Committee for Technological Innovation and Ethics (Komet)
Published on OECD-OPSI blog 23 June 2020
The world is facing major societal challenges such as climate change, health and digital transformation. Rapid advances in technology are unleashing innovation in many sectors that could help resolve these challenges. This calls for more proactive and cross-sectorial public policy development. The Swedish Government has appointed the Committee for Technological Innovation and Ethics (Komet) to address this. Chair of the committee is Jon Simonsson who below, with the help of three stone cutters, addresses how public governance must balance three levels of responsibility.  
Governance lessons from the three stone cutters
In Sweden innovation in the public sector innovation often suffers due to more urgent issues. Sometimes this is very well motivated such as with the current Corona crisis. However, it is dangerous to lose sight of the long-term and strategic work that is vital for creating a sustainable and inclusive society for people, the planet and the economy. On the other hand, why not seize the opportunities that the current crisis brings to open doors to societal change – innovation, deployment of new technologies and engaging the public sector are crucial aspect of this.
Several years ago, while I was studying in Boston, a professor shared the following story during a strategy class. It was a story of a traveller who came upon three men working with stone. Curious as to what the workers were doing with the stones, the traveller approached the first worker and asked, "What are you doing with these stones?" Without hesitation the worker quickly responds, "I am a stone cutter and I am cutting stones." Not satisfied with this answer, the traveller approached the second worker and asked, "What are you doing with these stones?" The second worker paused for a moment and then explained, "I am a stone cutter and I am trying to make enough money to support my family." Having two different answers to the same question, the traveller made his way to the third worker and asked, "What are you doing with these stones?". The worker slowly gazed toward the traveler and shared, "I am a stone cutter and I am building a cathedral." 
The three levels of public respo
n
sibility
What does this story have to do with public sector innovation? To me the story displays three levels of objectives, each level having its own motivators and characteristics. It could also be used to clarify three levels of public sector responsibility. Each level requires its specific ways of working, its incentives and style of leadership, and you must create a balanced approach to all three levels. 
In the Swedish public sector, as in most countries, governance and control is very much focused on productivity and adhering to the law. This is equivalent to the response of the first stone cutter. He focuses on producing as many adequate stones as possible. This level is based on an inside-and-out perspective of an organisation such as a public agency. 
The second stone cutter works towards helping his family make its living and maybe provide his children with education. To my mind this translates in a public sector that focuses on its citizens and applies an outside-in perspective. The starting point is how the public agency interacts with the society, to serve the needs of citizens and companies. 
The third stone cutter, who views himself as building a cathedral, represents the third level in the public sector analogy. The level works towards a sustainable society for current and future generations. In the Swedish context this objective is part of our constitution. 
It is vital to achieve a balance between these three levels of public sector responsibility. And it takes courage, leadership and transformation. It requires a long-term and a holistic governance perspective. And you need carrots and sticks on all three levels.  
Developing governance and incentives
So how do we develop a public sector with a long-term and holistic view that simultaneously works on all the three levels of responsibility? We need to encourage new ways of working as well as governance and incentives. This is easier said than done. It is much more challenging and uncertain to act on the two upper levels.  
First of all, we must ensure that politicians and public servants understand the current developments, understand implications of new technologies as well as understand expectations from citizens and local communities. It is vital to create a shared understanding and common view.  
In times of dramatic changes, continuing as we always have done is not an option. 
Second, we must dare to experiment with new solutions. It is more risky to change everything at once, without first testing under real conditions. This is contradictory to many fundamental beliefs of the public sector such as not to treat everybody the same, to spend public money on uncertain projects, and other risk associated with experiments and tests. 
Third, we must develop much more agile and stepwise ways of transforming when it comes to developing regulation as well as processes of the public sector. And we must do this together with other stakeholders such as businesses, civil society and researchers.  
Komet has illustrated this idea in the below model. If you share our interest in how to execute these three steps, feel free to contact us. We are eager to share stories and experiences, successes and failures alike.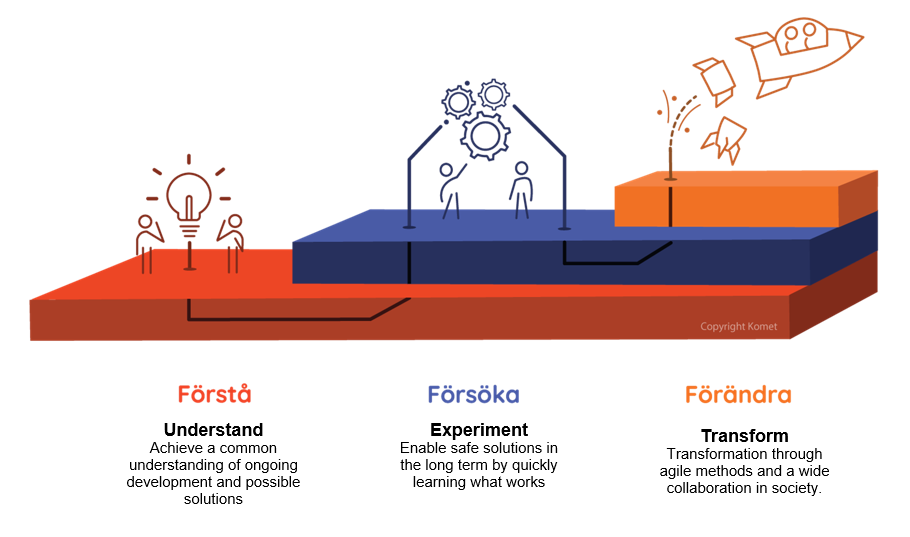 Innovation 
and courage 
is crucial
For Sweden, public sector innovation and renewal is a crucial issue. The Swedish welfare builds on our private sector being globally competitive. This in turn requires a society that enables development and adoption of new solutions, and a public sector that dares to try out new things. To stay competitive, we must be a breeding ground for new innovative solutions. 
Back to the story, don't we all want to be part in building the cathedral? At least I am, but that requires balancing the approaches of all three stone cutters. It also requires personal and societal courage to try new ways, experiment and sometimes fail. It requires a cultural shift in the public sector. Continuing as we always have done will not be a successful and sustainable alternative. 
About 

– Jon Simonsson is chair of the Swedish government's Committee for Technological Innovation and Ethics (Komet) which was established in the fall of 2018. Its mission is to help the Government to identify policy challenges, contribute to reducing uncertainty surrounding existing regulations, and accelerate policy development linked to new technologies. For further information and contact details see www.kometinfo.se 

The OECD OPSI is following the work of the Komet as part of its Anticipatory Innovation Governance project, which looks at spaces for exploring radical change in an era of uncertainty.